The ever-evolving regulatory compliance landscape and sophisticated fraudsters present many challenges to businesses ranging from operations to IT development to constantly stay abreast and keep their risk-based approach and processes as efficient, accurate and optimised as possible.
Know Your Customer (KYC) for regulatory requirements continue to evolve both in the type of due-diligence required and the level of complexity in which it is performed. "While compliance is not an option, but a legal requirement, businesses must integrate processes that satisfy the regulator while still delivering a positive customer experience", states 4Stop Chief Risk Officer Alvaro Kurth.
The primary obstacle in setting up a streamlined risk-based approach and a globally scalable set of data providers for compliant KYC procedures is the challenge of having to integrate various data providers at different touch points in the customer experience. Traditionally, this has been solved by various API integrations, Backoffice Management Systems and the teams under a leadership approach applying a patched work around to establish thorough KYC or risk check on clients and transactions.
This is where we come in. The partnership between payments technology provider Dimebox and 4Stop illustrates how connectivity between platforms creates a plug-and-play PCI Level-1 compliant environment with the 4Stop proprietary risk management technology fully integrated with the Dimebox platform.
With the two businesses combined technology services an all-in-one solution is formed. One product, one platform that brings together trusted information, managed services, harmonized data, software and expertise – an unrivaled combination that enables businesses to confidently process transactions, manage their KYC regulatory requirements and anticipate risk on a global scale. Businesses are empowered with quantifiable data to make well-informed decisions and effortlessly manage fraud risk – resulting in proven accelerated business performance.
Dimebox offers a complete PCI Level-1 compliant suite to accept any type of payment, offering advanced checkout options that take the burden of compliance away from the client. Their integration and partnership with 4Stop provides access to hundreds of global KYC data sources with robust flexibility to enable them in real-time and assign cascading KYC verification logic, backed behind their advanced real-time anti-fraud and monitoring technology, data science and more.
Aiming to provide a single full-stack API as the single contact point for all payment processing and data analysis, the integration with 4Stop gives Dimebox clients access the capabilities of the 4Stop API. All data from transactions passing through the Dimebox gateway and the extensive 4Stop KYC and anti-fraud rules engine optimises risk checks and is consolidated in the Dimebox UI for analysis.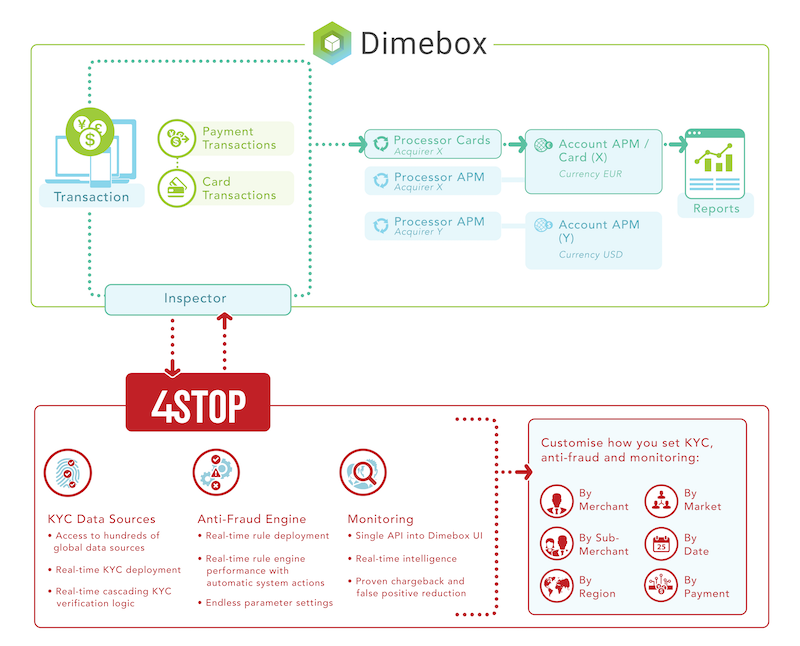 Solving the complexity of KYC
As 4Stop aggregates APIs and creates an elite suite of KYC data sources that is deployable in real time with one click , Dimebox clients can effortlessly enable KYC data checks for every stage of their customer journey, ensuring KYC is fully managed on a global scale.
This can then be paired with the 4Stop real-time cascading KYC waterfall logic to optimize KYC performance and cost-savings. On average businesses experience a cost-savings of 10.09% by their second month of utilizing this feature.
Cost-Savings from utilizing the real-time cascading KYC waterfall verification logic:
The KYC suite has also been designed for businesses to consolidate their existing KYC providers into their account, resulting in a single-view-of-risk. Backed behind hundreds of KYC data providers to choose from businesses can say goodbye to any and all future KYC data provider integrations required to support their KYC requirements - eliminate the overage on cost and IT development resources those integrations put forth on their business.

Powerful, dynamic, real-time anti-fraud technology.
Designed to exponentially reduce your chargebacks and false positives.
Clients processing payments through the Dimebox Payment Platform can send all their transactions through the 4Stop rules engine with the push of a button with the Dimebox inspector connection, before the transactions are passed on to the acquirer. This means fraud is stopped at a crucial point in the transaction chain within seconds. All transaction data from cleared transactions is then fed back to optimise processes for both 4Stop and Dimebox.
The rules engine is designed with robust, feature-rich technology to allow dynamic checking and securing of customers and their transactions. With real-time intelligence and real-time rule parameter actions, fraud prevention is optimized to its full potential. When passing transactions through the 4Stop rules engine Dimebox clients have full control as to what rules they want activated. From when they want them deployed, the duration for the rule through time-frame intelligence, threshold scoring to automatic system actions they want to occur when rules are triggered, all with the ability to customize configured rules to specific groups or types.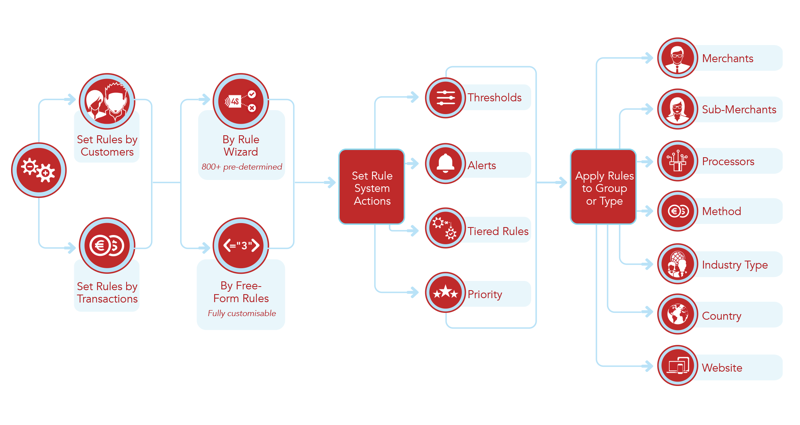 Businesses that have utilized 4Stop's anti-fraud technology experience a 66.6% reduction in chargebacks in the first 2 months with an average of 81.5% approval authorization rate.

It is inevitable that our online payment and fraud eco-system will continue to evolve. Both Dimebox and 4Stop have a tenacious dedication to continue investment into market-leading technologies that will support this partnership and consolidated best-in-class solution to support businesses payment, compliance and risk management needs.
Together, Dimebox and 4Stop enable enterprise-level businesses to process transactions globally with confidence and compliance even while the regulatory and fraud landscapes change. Both Dimebox and 4Stop technology has been developed with a full understanding of compliance and fraud prevention needs — locally and globally, today and in the future. All backed behind Dimebox's PCI Level 1 compliance, businesses can have trust and peace-of-mind their regulatory obligations are managed so they can focus on what really matters – growing their business.
For more information contact us at info@dimebox.com or visit 4Stop at www.4stop.com